Mt.Pulag Hike
Wearing two socks, gloves, a scarf tied around my neck, and a bonnet on my head, I still felt cold. I pinched myself thinking that I was dreaming and realized I wasn't. After a month's preparation, I'm finally here at Mt. Pulag.
Even bone tired, I suddenly woke up and had a hard time getting back to sleep because of the excitement I felt deep inside. 4hrs had passed, and I was still awake and found myself looking at the beautiful sky full of stars.
It was pitch black, and all I could see was the light coming from my flashlight. It was quiet, and the only thing I could hear was my breath, accompanied by the soundless melodies of darkness. I was starting to feel weary, and the exhaustion was seeping in, and all I could do was pray.
This journey was made even harder by the fact that I have asthma, and the temperature in the mountain was at least 5 degrees. I asked my best buddy, "Do you think I can do this?"
We hiked for almost two hours just to watch the sunrise and the sea of clouds, and I was already struggling to breathe. Then I remembered the guide that was introduced to our group. I called him and asked if he can help me with my bag; he did. And we reached CAMP 2.
I was freezing, but I didn't mind. Finally, this is Mt.Pulag hike
While resting, I looked at the sky. I was elated and amazed at the beauty that greeted me. I couldn't take my eyes off of the stunning view that's right on top of me. Finally, I got the chance to see an exceptional view that's simply breathtaking – the Milky Way.
The organizer started calling us to start hiking again so we can reach the tower site, where we can see a sea of clouds, before 5:30 in the morning. Once again, I was nervous. I couldn't find the guide who helped me carry my bag earlier.
Thankfully, a friendly guy named Wilson assisted me this time around. As we continued on our hike, I noticed that the air was gradually getting thinner, and I was getting less and less oxygen as time passes.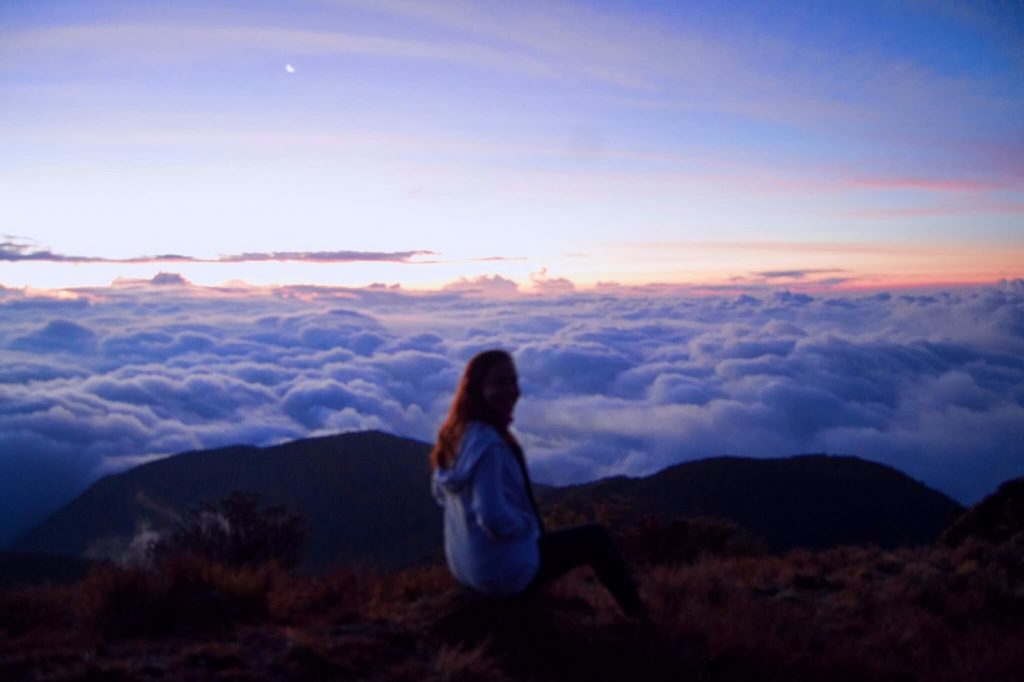 The trail was steep, but I forged on. By my calculations, we only had about 30 meters, and I had to fight to breathe properly. I tried to keep calm and continued to walk, but after five steps, I stopped. I called Wilson, and he quickly helped me retrieve my Oxycan (oxygen in a can) from my bag.
It saved me. I had to use this breathing device until we finally reached the Sea of Clouds.
I wanted to both yell and cry. And so I did. I wanted to dive head-first into the sea of clouds if only it were a real sea. That breathtaking view will forever be tattooed on my mind.
A gorgeous, peaceful view that we can't often see in our lives.
Sitting on the grass, i watched the clouds roll and waited for the sunrise.
Then I told my best buddy, "I still can't believe that I'm here watching these clouds giving way to the sun."
I took photos, videos and even did a time lapse. After an hour, the organizer once again gathered us to go on a higher spot where they cook and prepare food for the hikers.
At this point, the hunger, cold, and exhaustion were taking a toll on me.
I still couldn't breathe well and just wanted to rest.
This lady named Quennette called me and gave me her remaining hotdog. I accepted it because I was starving. She asked for two more pieces, along with slices of bread, so she can again give it to me.
Before I started hiking again to reach the summit, I saw the guide who graciously helped me. Once again, he tirelessly carried my bag. Halfway through the trail, I seriously considered giving up, because I was already hanging onto the last shreds of my strength. So I told my best buddy, "I'll do this.
But stay with me until we reach the summit, just like what you did the last time we hiked."
And mustering up all the will I have, I pushed on.
And then we finally reached our destination.
I was about to congratulate myself for overcoming this hike until I realized that we had to go back down.
So we started our journey back: my bag is with the guide, and all I have is my cellphone.
Fortunately, one of the ladies in my group named, Grace, let me use her trekking pole, which was a big help for me.
I decided to make it to the bottom quickly until I realized that I was all alone. Exhausted and no trail mix or anything to give me an energy boost.
I kept thinking that the guide probably needed to assist the other hikers going down. Convinced myself that I could do it.
So I walked for countless minutes and saw a lot of unfamiliar plants. To be honest, it felt like I was walking in circles.
So I stopped and observed my surroundings, listened carefully to nothing but silence, then I felt genuine fear. Started to walk again, almost out of desperation to get somewhere. Thirsty, and my knees were starting to buckle, and I was confused.
And then I saw something I didn't expect –
the exact same corner of mossy trees where I took photos like 200 meters back. I looked back, and no one was approaching. And I pondered if I should trace back my steps or keep moving forward.
But I didn't want to stop because I was afraid of being stuck in this unfamiliar place for who knows how long.
Once again, I took in my surroundings and told myself, "This place truly is magical."